Calif. Wildfire Spares Area Used To Film Westerns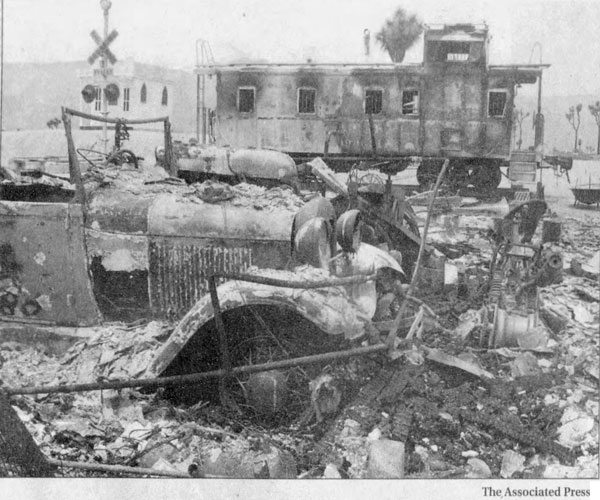 BLAZE IN DESERT DESTROYS 30 HOMES
By CHRISTINA ALMEIDA
The Associated Press
YUCCA VALLEY, Calif. – Desert winds and blistering heat on Wednesday challenged firefighters battling a 36,000-acre wildfire that destroyed buildings and forced hundreds of people to leave but spared historic structures in a town developed decades ago as a movie set for westerns.
Temperatures hit 108 degrees as 2,500 firefighters attacked flames devouring greasewood, Joshua trees, pinon pines, and brush in hills and canyons of the high desert about 100 miles east of Los Angeles.
"It's burning vigorously in specific areas," said Capt. Marc DeRosier of the California Department of Forestry and Fire Protection. Eight air tankers and 13 helicopters attacked from above. containment was just 16 percent.
The fire, ignited during the weekend by lightning, ha destroyed 30 homes and other buildings, DeRosier said. Damage assessment teams were working on a detailed count.
The fire was moving northeast as winds gusted to 40 mph, DeRosier said, and 800 to 1,000 people remained evacuated from Pioneertown, Burns Canyon, Rimrock, Gamma Gulch, Flamingo Heights and Little Morongo Canyon.
Smoke darkened the sky over the Mojave Desert north of the town of Yucca Valley.
Firefighters used picks and shovels against hot spots in the Pioneertown area, where the fire raged Tuesday.
There was no damage to the historic area, which dates to the 1940's when Hollywood cowboys such as Roy Rogers and Russ "Lucky" Haden began establishing it as a filming site.
In Morongo Valley – where large ranch homes are surrounded by highly combustible greasewood, Joshua trees, pinon pines and fine brush – residents watched nervously.
"I want to see how bad it is and see if I need to pack up my old pictures," said Tammy Taylor, who drove the family in a Jeep to the top of the canyon from there nearby home.
An evacuation center was set up at Yucca Valley High School, and horses and other livestock were taken to Landers.
Robo Gallery: You didn't select any Robo Gallery item in editor. Please select one from the list or create new gallery