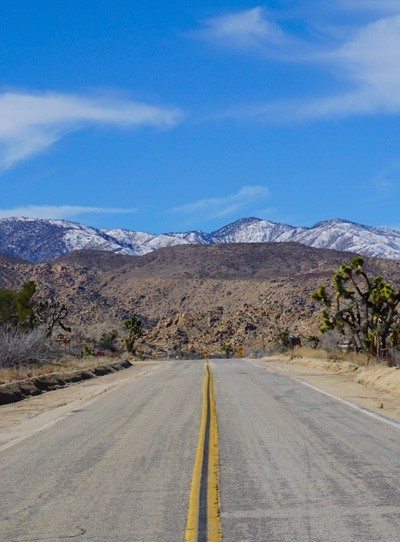 A few things you should know…
The Pioneertown community invites visitors to come and enjoy the fresh air and beauty as well as enjoying the great food, entertainment and to shop at the arts and craft shops.
On weekdays Pioneertown may seem like a ghost town. Pappy and Harriet's Pioneertown Palace restaurant is closed Tuesdays and Wednesdays. Most of the shops are also closed on those days. Also, a couple of shops are only open on the weekend. Most are open from 10 am to 6 pm sometimes earlier and sometimes later.
The Pioneertown Film Museum is now open so visitors can see the movie and television history of this western movie set turned community. The museum is free to visitors, donations are greatly appreciated.
There is very limited cell phone service. Make sure you know where you are going and where you are meeting others. GPS may not work and neither will your phone.
Pioneertown and the surrounding area is a great place for bird watching. We get all kinds of birds flying between Big Bear and the Morongo Valley.
Pioneertown is not a state park or a private amusement park. Pioneertown is a community, a real town; people live here, and wild animals live here too. Pioneertown is an active horse community which means that horses have the right of way, give horses plenty of room when passing them. Please be respectful to our community and wildlife during your time with us.
A few things to do in Pioneertown
Gunfight on Mane Street
There are two groups of re-enactors that perform original authentic old west shows for the entire family. The shows are on Saturdays on Mane Street in front of the Pioneer Bowl. Shows are free; donations are greatly appreciated. The two groups alternate Saturday during the Fall, Winter, and Spring. Due to the authentic costumes and the heat of Summer, the performances are halted during the Summer months. You can find more information about the Gunfighters For Hire and the Mane Street Stampede below.
Gunfighters For Hire: Performances are on the first and third Saturdays on each month, October through May. Show times are 1:00 pm, 2pm and 3pm. For More Information Click Here
Mane Street Stampede: Performances are on the second and forth Saturdays on each month, October through May. Show time is 1:00 pm. – Weather Permitting For More Information Click Here
Explore and Shop
Pioneertown's Mane Street is the home of many artists and crafts people. You can find amazing drawings and painting, Goat soap and wool, handcrafted leather work and all sorts of vintage clothing, books and so much more.
Pioneertown General Store
Pioneertown Mercantile: Pioneertown Pantry
Pioneertown Mercantile: Trailor Tags
MazAmar Art Pottery
Jessie Keylon's Art Studio
JoAnne's Goat Soap Shop
Chaparrosa Outfitters – Saddle Shop
Pioneertown Film Museum
The Pioneertown Film Museum displays memorabilia and information about the Movies and Television series that were filmed in and around Pioneertown.
Food and Drink in Pioneertown
Pappy & Harriets Pioneertown Palace
If you are looking for great food and some amazing musical entertainment spend some time at Pappy & Harriets. (www.pappyandharriets.com). Pappy & Harriets was voted #13 on the list of top 100 live music venues the the U.S. for 2016 by Consequence of Sound
Red Dog Saloon
The Red Dog Saloon re-opened it's doors on August 28th 2020 after decades of being shuttered. Currently open Thursday – Monday from 4pm-10pm. www.reddogpioneertown.com
The Pioneertown Motel
If you want to check out the night skies or enjoy a quiet weekend get-a-way, The Pioneertown Motel (www.pioneertown-motel.com) has beautiful newly renovated rooms.
5240 Curtis Road Pioneertown, CA. 92268 760-365-7001
Pioneertown Corrals & Campground
For those who are looking to take their horse on an adventure, or camp out under the stars, the Pioneertown Corrals & Campground (www.pioneertowncorrals.biz) is the place for you.
53626 Mane Street, Pioneertown CA 92268 760-365-7580
Desert Willow Ranch
If you are looking for a short term house rental, the Desert Willow Ranch (www.desertwillowranch.com) offers a cozy house with corrals. You must apply and be approved, so plan ahead. Desert Willow Ranch is also available for weddings and special events.
53722 Pioneertown Rd. Pioneertown, CA 92268 760-369-2211
Rimrock Ranch
Just 5 miles from Pioneertown sits the Rimrock Ranch.(www.therimrockranchcom) This beautiful location has multiple accommodations and is also available for weddings and special events.
53722 Pioneertown Rd. Pioneertown, CA 92268 760-228-0130
Le Haute Desert Aerie
Nested on 40-acres of desert wilderness. Le Haute Desert Aerie has loding for 18 guests and also offers space for weddings. (www.lehautedesertaerie.com) 760-707-3647

Outdoor Activities Around Pioneertown
The Pioneertown Mountains Preserve
Pioneertown is surrounded by a wonderful Wildlife Preserve. The Pioneertown Mountains Preserve Rangers have scheduled Ranger-led hikes. Check out the Wildlife Preserve website for current information. www.wildlandsconservancy.org The Pioneertown Mountain Conservancy also provides this Hiking Map. Please be safe and check-in at the Ranger Station before hiking without a guide.
Horseback Riding
Although there are no horse riding rentals, owners of horses and riding clubs are welcome to stay at the Pioneertown Corrals (www.pioneertowncorrals.biz) and ride through our scenic landscape. Corrals and camping spaces are only $10 per person/horse.
A Few Simple Rules
No Flying Drones – Drones Spook the Horses
This may seem like an arbitrary thing, but it is not. The sound of drones flying spooks horses. The horses believe it is a swarm of bees and they will cause the horses to hurt themselves and the people around them. This is a serious matter and drone owners will be held liable for damage or injury due to drones spooking our four-legged population.
Respect the Nature and the Community
People live here. Not everyone wants people walking through their property, please keep that in mind while strolling or riding around the community. The Pioneertown Mountain Preserve is the easiest place to safely explore the area. All other open lands you see is private property. Do not trespass. Pioneertown has dirt roads. Dirt roads create a lot of dust, please drive slowly on the dirt road to help keep the dust down and protect the wildlife that roams our streets. Please don't litter or leave trash behind. The critters are fun to watch, but please don't attempt to touch or feed the wildlife. Give our rattlesnake and coyote friends their space.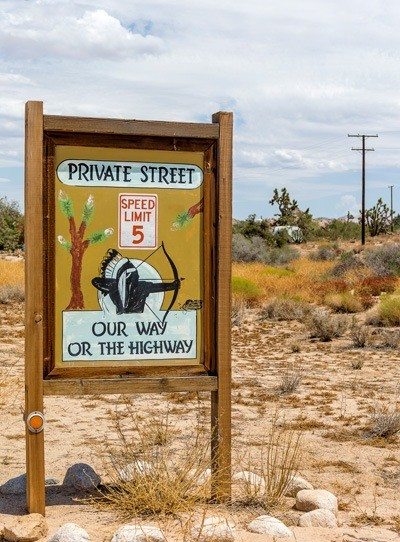 No Outdoor Fires – No open fires are permitted.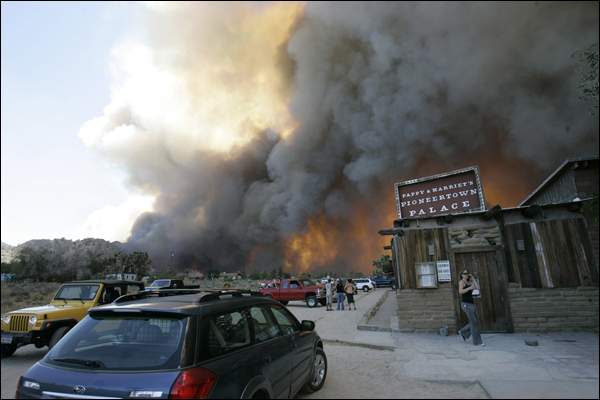 Pioneertown is in a wilderness area where open outdoor fires are not allowed by law. The fire danger is REAL. Wildfires have almost wiped out the Pioneertown several times. Fires are not allowed include fire bowls and Bar-B-Q's that burn anything besides propane. For more information on burning, visit the CAL FIRE website at www.fire.ca.gov.
Avoid Light Pollution.
The residents of much of the mountain and desert areas of San Bernardino County, California currently enjoy a beautiful dark, star-filled night sky and a view of the Milky Way, unlike the residents of the more populated valley areas of the county. Help the Pioneertown community maintain these wonderful night skies by minimizing outdoor lights. And never leave outside lights on when no one is present.
Quiet Environment
One of the main reasons people come to Pioneertown is the peaceful beauty of the quiet. Pioneertown sits in a valley that keeps outside noise away. However, the same valley causes the sound to echo. Please help keep the peace and quiet by not having loud outdoor parties in the evening.
Joshua Trees are Fragile
Not only are Joshua Trees Fragile, but they are also endangered. Slacklines and hammocks could kill them. Please admire but don't touch.
Please Don't Litter
We value the natural surroundings. Secure your items so that they don't brow away in the wind and put garbage in secured bins or take it with you.