Last Hole is 28 Miles Long
Pioneer Pass Golf Begins In Yucca Valley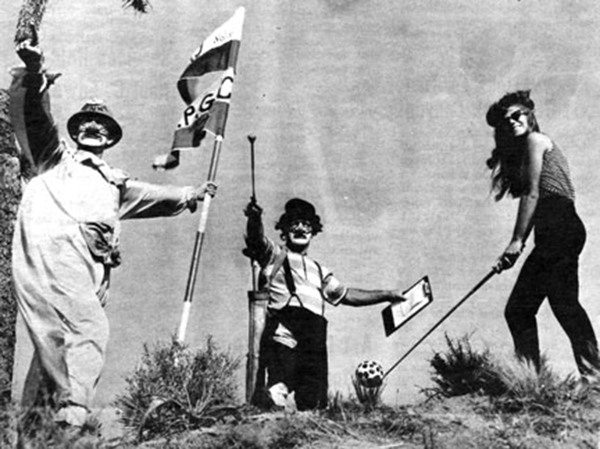 YUCCA VALLEY – with the deadline for the 6th annual Pioneer Pass Golf Challenge set for noon today, nine communities and 19 golfers sponsors primed and ready for the three-day event featuring the 28-mile "Worlds Longest and Only (playable) 19th Hole."
Using the historic cattle and mining trail Pioneer Pass for its fairway connecting the hi-desert with the mountains of Bear Valley, the Oct. 9, 10 and 11 golfing challenge for the first time I have a woman's flight with four women accepting the challenge and representing the communities of Twentynine Palms at Yucca Valley.
Eleanor Foster, of Twentynine Palms, one of the first women ever to play the unique that offers nine holes of golf at the Yucca Valley golf club, the 19th hole on Saturday and the Sunday night hole finale at the Moon Ridge Golf and Mountain Club. Big Bear Lake, will match clubs with Faye Hopkins, Dottie Pippitt, and June Frissened, sponsored in order for Bob Howell, Mike Arramith, Dorothy Turnham Realty and J. M. Dickson cabinet shop, all of Yucca Valley.
Other late entering and sponsors are Steve Hiebo, B&I Market, Joshua Tree; Ray Bartlett, Ray's Septic Tanks, Joshua Tree; Bob Crawford, TV Cable, Yucca Valley; Bill Cole, Yucca Valley Materials and Supplies, Yucca Valley, and Robert Quintard, Calimesa, Plante's Cabinet Shop, Yucaipa.
Other golfers and some sponsors entered our Cal Baker, Victorville, Callahan; Leslie Mercatoris, Highland, Yucca Valley Liquor; Jim Mann, Yucaipa, Bob Roberts Realty; Bill Brohamer, Twentynine Palms. R. M. Hapsburg; Gene Hardesty, Yucca Valley, Hi-Desert Concrete; Ray Nelson Hermosa Beach, Farmers insurance; Bill Beckman, Redondo Beach, Beckman Insurance; Bob Hunter, Redondo Beach, Chevron Service; Howard Smith, Redondo Beach, but Redondo Chevron; and Ed Hardesty, Hardesty's Floor Covering, Yucca Valley.
Full program opens today with nine holes of play beginning at 2 p.m. On the Yucca Valley Golf Club greens. PPGC kick-off dinner is slated the same evening at the clubhouse. Bill Cole will be master of ceremonies and present a special program of entertainment.
The 19th hole breakfast Will be at 6 a.m. Saturday at Callahan. Teeoff on the 19th hole is set for Pioneertown at 7 a.m. Lunch along the 19th Hole's Pioneer Pass fairway will be catered also by Callahans.
Play resumes Sunday where it is terminated Saturday on the 19th Hole with coffee and donuts provided for the field of golfers. 19th hole finale is set for 1 p.m. at Peter Pan Lodge on Sunday. At 2 p.m. following refreshments at Peter Pan, final nine holes of play begins at Moonridge Golf and Mountain Club.
Victory celebration buffet on an "all-you-can-eat" basis is offered at 3:30. Windup of trophy awards follows the buffet at the Moonridge clubhouse.
Throughout the three-day event, Joshua Tree's Debbie Mitchell, "Miss Pioneer Pass," will reign over all activities. Cooperating to make the Pioneer Past Golf Challenge possible will be that Yucca Valley Rangers, volunteer arm of the San Bernardino County Sheriff Department San Bernardino National Forest fire patrol; amateur radio club for communications; and the various radio and news media of the Hi-Desert, mountains and Southern California.
The annual PPGC is cosponsored by the park and recreation districts of Big Bear and Yucca Valley. Entry forms may still be had at the chamber of commerce offices in Yucca Valley and Big Bear Lake.
Robo Gallery: You didn't select any Robo Gallery item in editor. Please select one from the list or create new gallery