Pioneertown Provides Bit of Old West for Tourists and Movies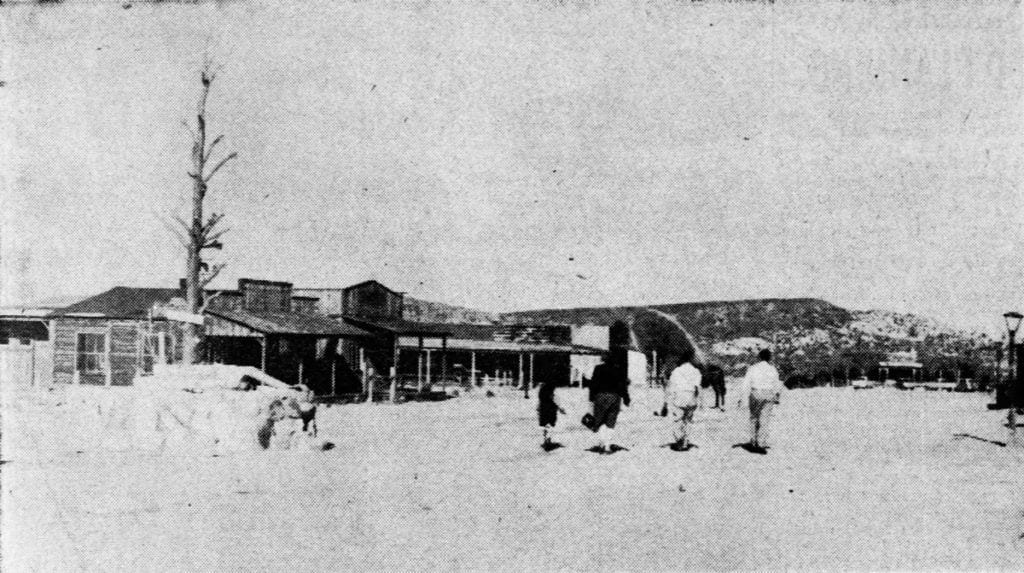 Of all San Bernadino County's unique locations–mountains, lakes, forests, desert–perhaps the most outstanding and picturesque is Pioneertown, which has a pair on more movie and TV screens and any other spot of the Old West.
Lying only 4 miles north of Yucca Valley, where the Pioneertown Rd. cuts off from Twentynine Palms Highway, the reconstructed bit of California's past and press crowds throughout the year.
Pioneertown actually includes a 30,000 acre site for shooting Western films, and was widely used in the Cisco kid series. The scenery there is true Californian, from the rolling hills to the snowcapped mountains around Big Bear in the distance.
The town proper lines a dirt street where "horseless carriages" are not allowed. It's faded wooden buildings with their false fronts, boardwalks and atmosphere of the pioneer days I have provided the movie and television industry with a permanent real shooting location.
A small group of year-round residents play host to the perpetual stream of tourists. They own their own plots of ground and have built their homes and stores in the old West style.
One man runs a small grocery store, another has raised turkeys, and others live on their retirement income. They even have their own post office.
Pioneertown was originally developed by a Hollywood group which included Roy Rogers, Dick Curtis, Bob Nolan, Russell Hayden, and Tim Spencer.
Gene Autry has made pictures at Pioneertown for television, and it has been the location of many major productions. Authenticity is enhanced when real prospectors can be Lord out of the hills turn some extra grubstake money.
And you can't forget Trigger Bill Bridge, who's shooting gallery, small western museum and hopefully yarns and interested tourists four years.
Pioneertown has its share of ruined buildings, and though the film cameras don't catch it, the visitor sees a huge stock of props which supply the never-ending needs of the series of films shot there.
Despite the dusty main street with its hoofprints and chuckholes–an ancient firetruck is the only vehicle allowed on it–Pioneertown offers recreation other then the gunfights and quilting bees of the days of yore.
Of course, you have to enjoy these places in between the periods of make-believe gun play and blood-letting.
Proof of Pioneertown's being a Hollywood mainstay is shown in the list of studios and producers which have made use of it: Columbia, RKO, MGM, Sam Katzman, Nevins-Busch.
The list of actors and actresses who have been on location includes such big names as Barbara Stanwyck, Larry Parks, Gene Autry, Lou Carrillo and: Smiley Burnett.