PIONEERTOWN
High Desert Riding in Southern California
BY ROSEMARIE WARREN
We're all familiar with ghost towns … those derelict ruins from the past that give you an inkling of the yester years. One of my favorite diversions occurs when stumbling onto an untouched part of history, whether it be an old mine, a town, or any site that is the past as it was. As you step cautiously among the decaying timber or crumbling adobe you can see life as it really was.
For better or worse many of these "ghosts" from the past have been restored to modern day standards. You get the basics of life as it was … with new gingerbread trimmings. Not to say that it isn't a pleasure rambling through these updated goodies and oldies, you still can get a picture of the past.
The reverse of taking something old is making something new, old. This statement is not as un-rational as it sounds, and is easily explainable. We've all heard about antique operators who have the technique of aging and effect down to the science of high buck end results. There isn't anything new about that but if you'd like a real twist on this new but looking old angle … We suggest a trip to Pioneertown, California.
Located on Highway 62 (the road that takes you through Yucca Valley, Joshua Tree and Twenty-Nine Palms), watch for the very hard to see arrow that points the way to Pioneertown as you enter the town of Yucca Valley.
When coming from the North and heading South, you reach Highway 247 which can also take you to Pioneertown. Leaving Yucca Valley and heading out on #247, keep an eye out for ·the very difficult to spot arrow that points to Pioneertown.
Pioneertown is approximately 10 miles out of Yucca Valley. The turn-off from #247 takes you along a sand wash and canyon, then into Pioneertown. A magnificent plateau with cliffs of sand spills down to the floor of the wash to mix with tremendous boulders that form patterns between the cactus and yuccas.
Traffic is a rarity leaving y0u mostly with yourself for company on a road that curves and dips enough to keep things interesting in the riding as well as looking department.
A loop around a curve brings you the metropolis of Pioneer-town. The sign says Pioneertown is a planned community being authentically piece-mealed together as fast as available money permits. That puts the growing rate at almost full-stop! What we have here is a town planned for a Western ghost town effect that comes through as the real thing.
Despite the deserted appearance, Pioneertown has a lot to offer for the touring/camping rider. There are full camping facilities available as well as a motel. The livery stable offers the chance to take a mule ride amid the surrounding desert land.
Solitude is the biggest asset of Pioneertown. In a matter of minutes you can be by yourself on a dirt trail through the desert that is acceptable for most road bikes.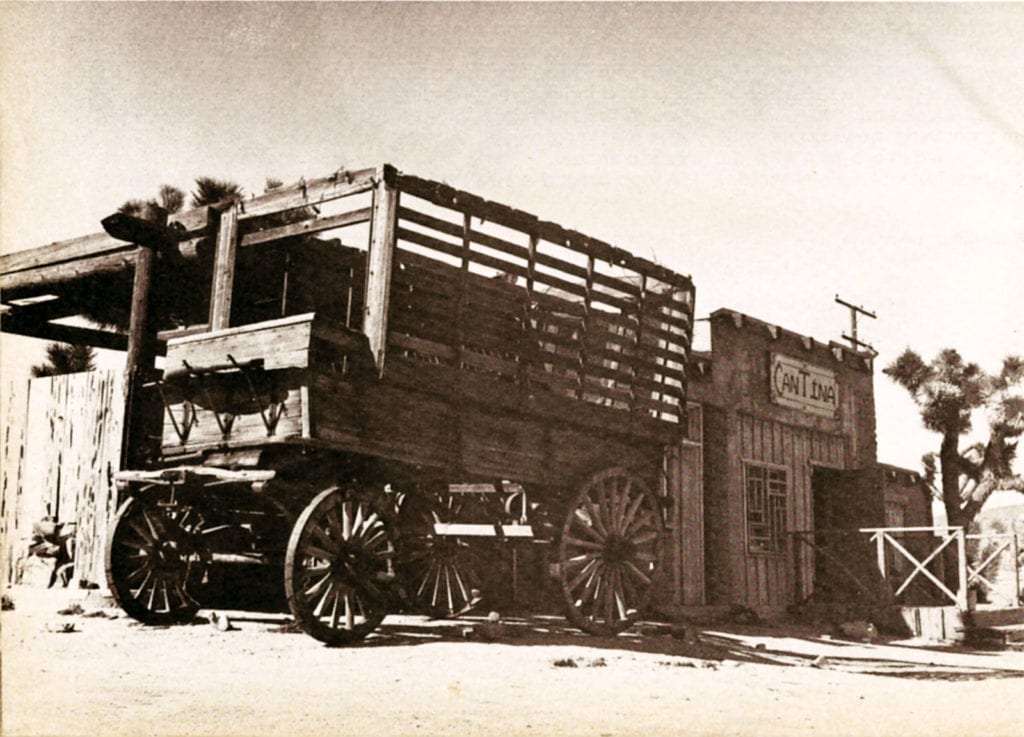 There's a general store for general purchases and a cantina for more specific purchases. If you decide against spending the night in town, you have the option of getting back to #247 and taking a left to go on to Lucerne where you can take the back road up to Big Bear Lake (a mountain resort town that offers good fishing, good eating, and good camping).
If you want to see what a real dormant volcano looks like, take Highway 62 into Twenty-Nine Palms for the Amboy turn-off. You'll pass Dale Dry Lake. From that point and on into Amboy, you pretty much have the road to yourself. If you want non-stop, non-traffic running to blow out the cobwebs, this is the road.
Just before you get to Amboy you'll top the crest that has Bristol Dry Lake at its base. The view is staggering, a pleasure to the eye. As you draw closer you can see the shape of the Amboy Crater as well as the mounds of volcanic remains. Besides the Lake and the Crater, the total peace and quiet of the desert will please even the most hard to please.
Whether you want a short ride or prefer to go the distance, these Southern California roads will keep you in tune with riding at its best.