Televiewing and Listening In with Sid Shalit
Frontier Town—1952 . . . The town where Gene Autrey does location shooting for his CBS telefilms. Pioneertown, Calif., is the nearest thing to the old frontier towns of the 70s and 80s this side of 1952.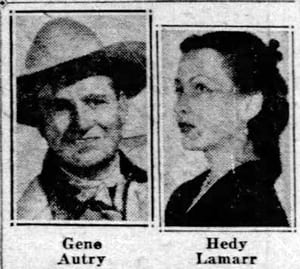 Pioneertown, whose normal population of 75 doubles when the Autry show personnel clutters up the neighborhood, is a tiny cluster of buildings in the baked Mojave desert, just 30 miles north of swanky Palm Springs, but about 60 years behind that ritzy resort. Autry finds the location ideal as background for his TV films because of the surrounding 80 acres which can duplicate the scenery of seven different western states. This, plus the fact the town itself looks like a, sure enough, cowboy town to fool Wild Bill Hickock.
To preserve the western atmosphere, no automobiles may defile Pioneertown's main drag, referred to as Mane St., a punning reminder of the horse favoritism shown in the town.
Actually, Pioneertown was founded only five years ago, in 1947, a fact which the founding fathers shrug off. For instance, a sign on one of the buildings reads "White's Grocery, Est. 1847." Other merchants have signs expressing their idea of what signs were like in the West of 80 years ago. "Mercantile Emporium,"reads the one on the general store, "Anything from silk pants to surreys, with or without the fringe." (The Rodgers and Hammerstein influence.) "Trigger Bill's Shooting Gallery." "The Red Dog Saloon. No dogs allowed," etc. All that's missing is the government assayer's office and a boot hill cemetery for the discarded targets of Trigger Bill's customers.
The humorous, so called, sign seems to be the prevailing passion of Pioneertown hombres. For instance, in the middle of Mane St. is a tree with signs reading: Cape Town, 7,700 miles; Cheyenne, 1211; Sutter's Creek, 486, Chisholm Trail, 1,196; Dodge City, 1,300; Tombstone, 496 miles.
Oh yes, the biggest sign in Pioneertown reads: "There is no place just like this place anywhere near this place, so this must be the place." Any arguments?
News Notes . . . Hedy Lamarr has been signed for a series of 39 half-hour telefilms based on historical love stories. Production gets under way mid-November. Interiors will be filmed in London and exteriors in various European settings . . . Doris Day is set to do a Dinah Shore type TV show for CBS when her current contract at Warner's expires . . . There's a deal in the making that may bring the First Dram Quartet, Charles Laughton, Charles Boyer, Agnes Moorhead and Sir Cedric Hardwicke, to the NBC-TV cameras during the Christmas holidays.
Robo Gallery: You didn't select any Robo Gallery item in editor. Please select one from the list or create new gallery