Wild Burros Off On 3-Day Jaunt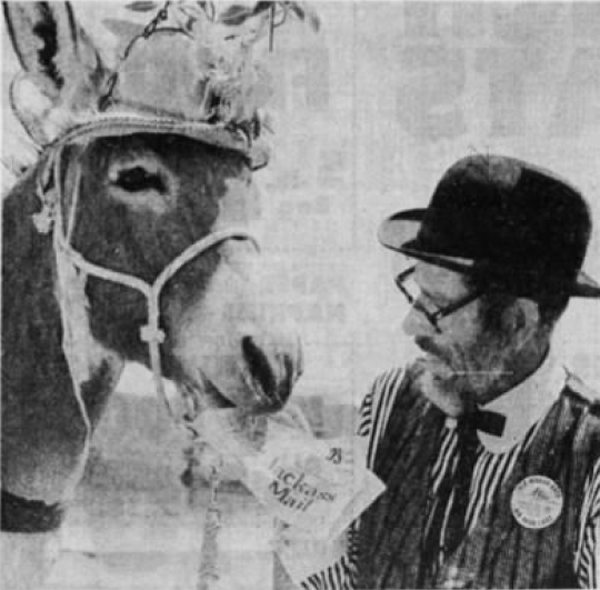 PIONEERTOWN — It will be "Big Bear Lake Or Bust' for 95 wild burros and their intrepid wranglers who line up here on the starting line at 7 a.m. today and begin their three-day 40-mile 12th Annual National Burro Derby. Finish line is at the Elks Club at Big Bear Lake.
The racing route for the first day will take them down the curving, hilly Pioneertown Road to the Twentynine Palms Highway in Yucca Valley, then east of Old Woman Springs Road and the lunch stop at the Copper Room, as guests of the Yucca Valley Elks Lodge.
After the mid-day meal, the burros and wranglers travel north to the Flamingo Section of the Landers area and the conclusion of the first day of the race.
The burros will then be trucked to Lucerne Valley to await the early-morning (again 7 a.m.) start for the second day. If the burros were not trucked to Lucerne Valley from Flamingo, it was stated, the route would have been 60 miles long. It was decided to keep the same basic time and distance elements as have existed in previous years when the derby was run from Apple Valley to Big Bear Lake.
The Pioneertown Road will be closed to all vehicle traffic while the burros and wranglers are traveling over it, an official declared.
Many people who know and understand the nature of wild burros are taking an especial interest in this first stage of the race from Pioneertown to Yucca Valley, it was reported. There is a 700-foot drop in elevation and the road has many turns and steep dips.
Wild burros are said to be somewhat controllable going uphill but completely unpredictable going downhill. And, since this is the first time the derby has been run along this route, there are many "experts' who will be watching for reactions. The wranglers are reported to have a "casual interest" in those reactions, too.
All of Pioneertown and many Yucca Valley businessmen and townspeople are expected to line the highway and cheer the "Old Miners" on their way to the greater heights of the mountains.
Robo Gallery: You didn't select any Robo Gallery item in editor. Please select one from the list or create new gallery