Wildfire burns structures at movie site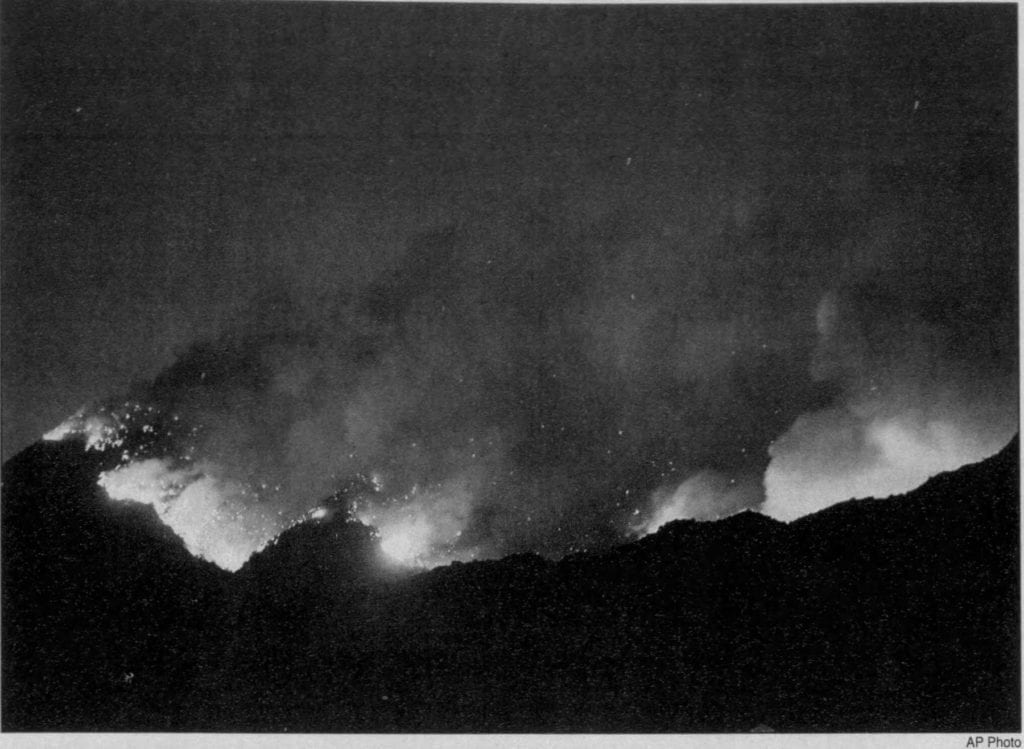 YUCCA VALLEY, Calif. (AP) – A wildfire burned several structures in a desert community where dozens of Hollywood Westerns were filmed, and threatened other towns while prompting 1,000 people to flee.
Winds up to 20 mph fanned the fire across 6,000 acres, said Doug Lannon, a battalion chief for the California Department of Forestry. The fire had originally started as part of a series of lightning-sparked blazes. It was brought under control, but erupted again.
The blaze burned through historic Pioneertown, and television news footage showed several structures burned to the ground, Lannon couldn't immediately say what the structures were.
About 200 homes were threatened, said forestry Capt. Debbie Chapman.
About 600 firefighters aided by six helicopters and six air tankers were working the blaze, which prompted mandatory evacuations of Pioneertown, Rimrock, Gamma Gulch, Pipes Canyon ad Bowden Flats.
Pioneertown, about two hours east of Lost Angeles, was host to Roy Rogers, Russ "Lucky" Hayden and other Hollywood cowboys who helped establish the desert hideaway in 1946. Movie crews nailed together a saloon, hauled up a railroad car and sank posts around the "OK Corral."
Gene Autrey filmed "Last of the Pony Riders" and "Indian Territory" in Pioneertown, Hayden, of Hopalong Cassidy fame, used it for his "Judge Roy Bean" TV series, and shot several movies and the TV series.
By the 1960's, the town had become more of a residential community, although filmmakers began returning a few years ago. Car companies have filmed commercials in Pioneertown in recent years. Music videos have also been made there.
Carol Post, owner of Pioneertown's Red Dog Saloon, said the fire surged within a block or two of her home in Yucca Valley before the wind shifted, pushing the flames north.
"It was really scary," said Post, 70. "It was a wall of flame." She said that she rushed to Pioneertown to check on her bar but that fire officials barred access.
Elsewhere in the West, Montana firefighters were trying to control a blaze about 40 miles west of Billings that had destroyed at least one home and four other buildings, officials said.
Authorities urged residents in about 120 homes to leave because of the 3,000-acre fire. Five structures were destroyed, officials said. No injuries were reported.
In Nevada, officials said they had gained the upper hand on two lightning-sparked wildfires burning toward the small town of Beatty, near Death Valley National Park.
In western Stanislaus County, Calif., a fire that burned about 5 square miles of rugged terrain was about 40 percent contained Tuesday.
No evacuations were ordered as about 1,000 firefighters fought the blaze, which started Sunday about 85 miles southeast of San Francisco. The fire destroyed three structures believed to be hunting cabins.