With the Square Dancers
Roundup in Pioneertown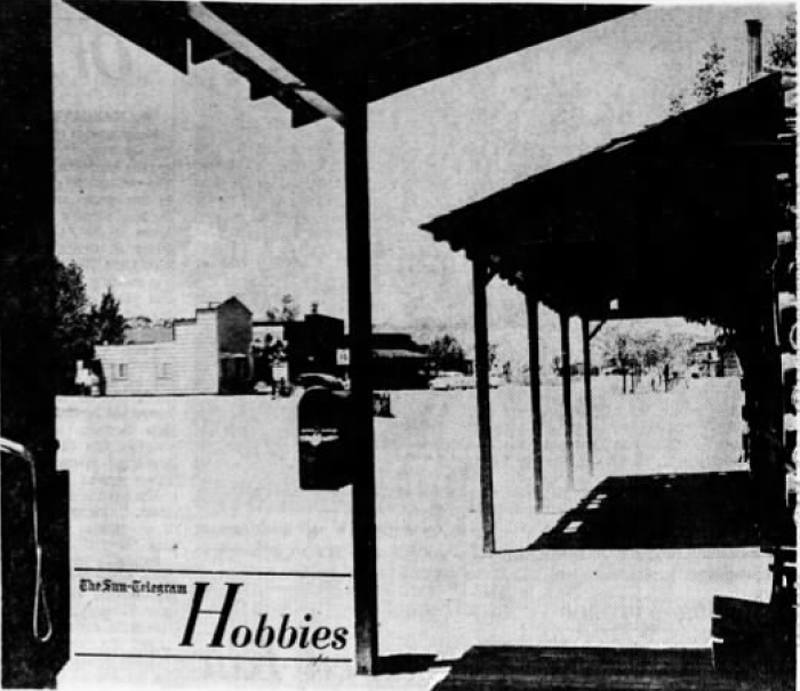 By DUKE LAGES
Sun Telegram Hobby Editor
Pioneertown will be the setting for the Western Roundup square dance next Saturday evening at 8. Yucca Valley Hi-D Squares will sponsor the big dance under the stars. Max Normando, La Habra, has been engaged to call the squares.
John Hollinger, Pioneertown mayor, will be present to welcome guests. Those with self-contained trailers and campers are promised conveniences, according to Lute and Mary Steele, presidents of Hi-D. New officers of the club will be installed during the evening. Pioneertown is four miles north of Yucca Valley and there are motels, cafes and grocery stores.
Monday evening, Boots and Sandals will graduate its class at Bethel Center, 9th and F streets. This class began in January and has been instructed by Bob Morris, Elsie and Jack Mc Veity promise good food and go.d calling by Morris.
Hi-Lo Swingers will hold one of their popular luaus next Saturday evening at Bethel Center, according to Pat Brittain, club correspondent. All are invited to wear their most comfortable party clothing to dance to the calling of Hillis Hauck.
Following is next week's calendar for clubs and classes, with names of guest callers. Almost everything starts at 8 p.m.
MONDAY — Boots and Sandals class graduation, Bethel Center, 9th and F Sts., Bob Morris.
TUESDAY — Mavericks, YWCA, 500 E. Citrus St., Redlands, Jim McDaniels. Classes: Highlanders, St. Paul's Lutheran Church, 7090 Palm Ave., Highland, Bob Saulman: Aerospace Squares, Aerospace Bldg., Mill St. and Tippecanoe Ave., George Cockrell.
WEDNESDAY — Bell ringers, Woman's Club, 35278 St., Barstow, Buck Covey; Teen-Agers, American Legion Club, California and A Sts., Yucaipa, Jim Jarnigan.
THURSDAY– Boots and Sandals, Bethel Center, 9th and F Sts., Bob Morris; Hix and Chix, Colley Hall, 178 Iowa Ave., Highgrove, Wayne West; First Christian Church Club, 10th St. and Arrowhead Ave., Bob Ballou.
FRIDAY – Plymouth Rockers, First Congregational Church, 3041 Sierra Way, Bob Ballou; Guys and Dolls, 2042 State St., Muscoy, Lee Schmidt; Caper Cutters, Woman's Club, Adams and A Sts., Yucaipa, Jim Mann; Sues and Ques, Woman's Club, 219 N. Riverside Ave., Rialto, Sam Martin; Cactus Cut-Ups, Community Center, 15615 8th St., Victorville, Jim Bess; Swingin' Saints, Emmanuel Methodist Church, 3310 G St., George Cockrell.
SATURDAY — Yucaipa Squares, Woman's Club, Adams and A Sts., Yucaipa, Deb Kelly; Hi-Lo Swingers, Bethel Center, 9th and F Sts., Hillis Hauck; Swinging Stars, Community Center, 1 block north of Foothill Blvd, on Hellman Ave., Ronnie Cupp; Western Roundup Under the Stars, Pioneertown, Max Normando (sponsored by Hi-D Squares).
Robo Gallery: You didn't select any Robo Gallery item in editor. Please select one from the list or create new gallery