Beauty On The Desert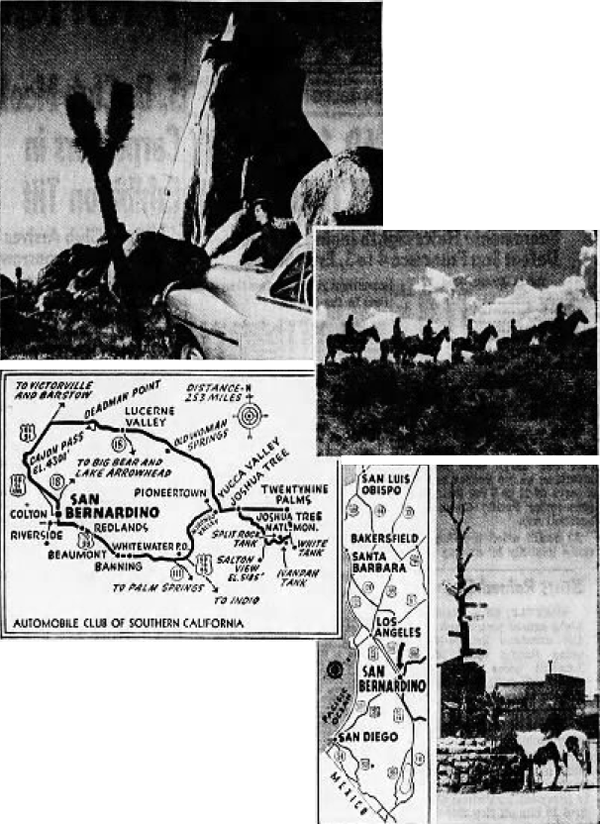 This exciting trek through the Joshua tree desert region offers motorists and inspiring picture of grotesque plant formations, breathtaking vistas, old mines, got a palm tree awaits us and even a rustlers' secret valley. Most striking is the areas natural, unsophisticated beauty which makes it truly a desert lovers delight.
Gateway to the Mohave Desert is the Cajon Pass which, from at Summit, commands a magnificent view over mountains, deserts, orchards and vineyards. Lucerne Valley (center photo) is devoted to recreation on horseback with dozens of dude ranches, ranging from a few cabins among the mesquite to swanky establishments adjoining landing strips and swimming pools, visible from the highway.
Morongo Valley, Yucca Valley in Joshua Tree are growing settlements of health seekers and desert lovers. North of Yucca Valley four miles is Pioneertown (lower photo), A man-made replica of an old Western town. It is used periodically as a movie set for cowboy films.
The actual oasis says I'm 29 palms, now reduced in numbers, is that northernmost palm away oasis in the country. It was once selected by a group of doctors as the nations most helpful and comfortable haven for me to parading veterans and has since developed into a modern, attractive desert community.
I was from 29 palms leading into the desert in all directions, minds, dunes, formations, salt works, dry lake's, vistas and into Joshua Tree National Monument (top photo). This area was established in 1936, by presidential proclamation, to pay tribute to California's famed Joshua tree forest. Nearby, at salt you, is one of the most sweeping desert scenes in the world. On a clear day, one can see Signal Mountain across the Mexican border.
In Joshua Tree National Monuments also is an ancient rustlers' secret haven, now known as hidden Valley. This hideaway can only be reached via traveling by hands and knees through rocky tunnels.
The Beaumont-Banning area is noted for its almond and cherry orchards. In June, the renowned Cherry Festival will be held in Banning.