Robo Gallery: You didn't select any Robo Gallery item in editor. Please select one from the list or create new gallery
Calif. fires on collision course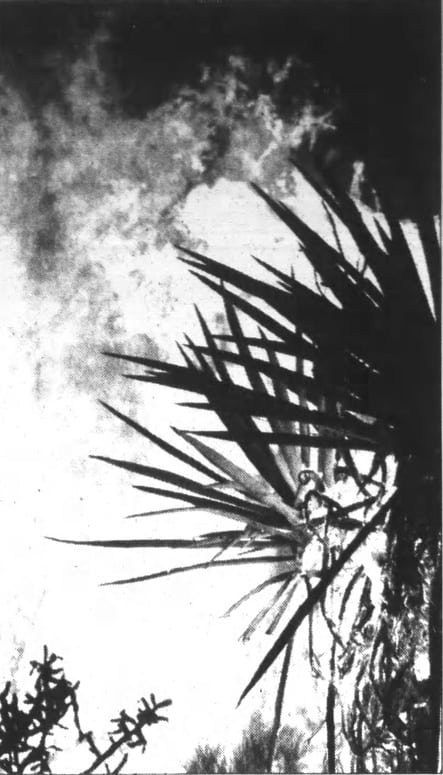 YUCCA VALLEY, Calif. (AP) – A wildfire that has already burned 40,000 acres and destroyed 100 buildings roared through high desert wilderness. Thursday, threatening to merge with a fire in national forest land filled with dead, dry trees.
"If it starts in there, it will be almost impossible to stop," California Department of Forestry spokeswoman Karen Guillemin said of the fire edging toward San Bernardino National Forest.
The blaze, about five miles from a 1,200-acre fire in the forest, was mainly consuming fast-burning fuel such as greasewood, Joshua trees, and brush. If it expands from the high desert to the mountains, it could grow more devastating by burning millions of larger trees killed in recent years by a severe bark beetle infestation.
The fire, ignited by weekend lightning, destroyed 42 houses, 55 other buildings and 91 vehicles in and around Yucca Valley, about 100 miles east of Los Angeles, authorities said. As of Thursday morning, it was considered only about one-fourth contained and thousands of structures remained threatened.
Firefighters were unable to save a trailer that was home to Justus H. Motter, 89.
"All my personal things were in there – my wedding pictures, the pictures of my niece. It's an awful loss," he said.
The blaze sent a column of smoke thousands of feet into the air. Authorities said the smoke could be smelled as far away as Ogden, Utah, and Las Vegas.
About 1,350 firefighters were battling the larger fire in triple-digit temperatures and strong wind gusts. Nine firefighters and two civilians ere treated for minor burns or smoke inhalation.
About 1,000 evacuees from Pioneertown, Burns Canyon, Rimrock, Gamma Gulch, Flamingo Heights and Little Morongo Canyon had not returned to their homes, said Capt. March DeRosier of the California Department of Forestry. Pioneertown is a historic area where Westerns starring Gene Autry and Roy Rogers were filmed, but the fire spared saloons and Western-style storefronts used in those movies.
In the Gamma Gulch area, dead animals littered a property where a home and barn burned.
"We drove through a wall of flames to get out," Robin Thomas of Pike's Canyon told The Sun of San Bernardino. "This was the most beautiful place in the high desert, the greenest place. Now all the vegetation is gone."
Elsewhere in the West, several new wildfires in southern Montana spread quickly – one to an estimated 10,000 acres – because of windy weather.
At least one house on the Crow Indian Reservation was reported destroyed by a blaze, said Jon Kohn, an information officer for the Crow Agency Bureau of Indian Affairs' Forestry Division.
Robo Gallery: You didn't select any Robo Gallery item in editor. Please select one from the list or create new gallery