Two big Calif. wildfires merge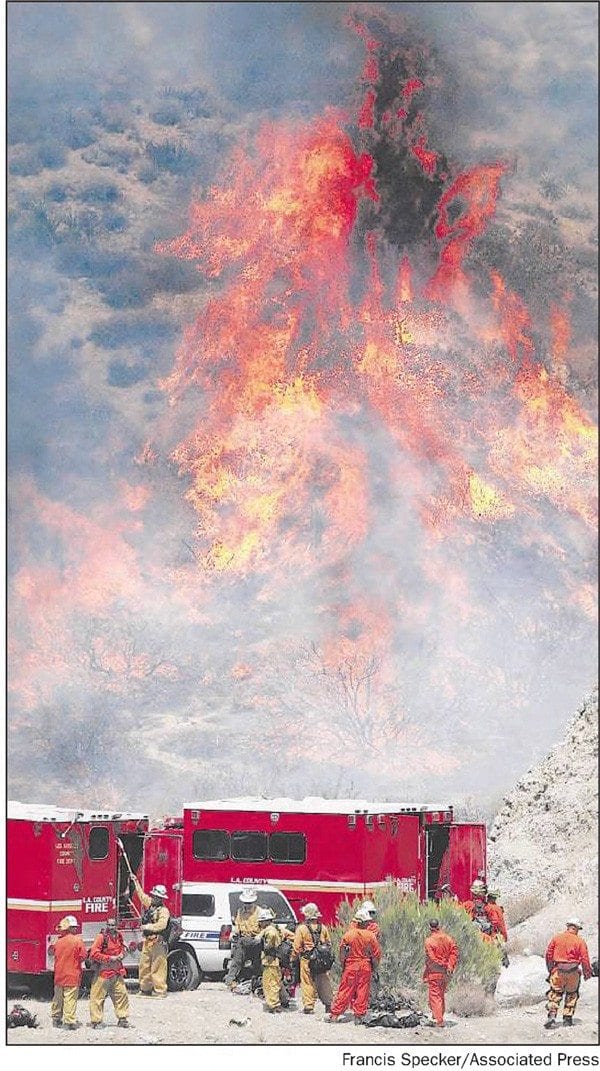 By Christina Almeida
The Associated Press
YUCCA VALLEY, Calif. – Thousands of firefighters aided by aircraft yesterday worked in fierce heat to keep two big wildfires from gaining a foothold in the heavily populated San Bernardino Mountains, where millions of trees killed by drought and bark beetles could provide explosive fuel.
The lightning-caused fires, covering more than 95 square miles combined, merged yesterday afternoon. Wildfires can grow more unpredictable after merging, but the two blazes were moving slowly yesterday, and U.S. Forest Service officials and it appeared that their combination was unlikely to seriously increase fire activity.
The larger of the two fires has destroyed 45 homes and 118 outbuildings and remained a potential threat to 1,500 homes, said the Forest Services' Kristel Johnson. The 53,000-acre blaze started a week ago on the Mojave Desert floor, below the eastern flank of the San Bernardino's, and was 20 percent contained.
The smaller fire had burned 8,300 acres, mostly at higher elevations. Though heavy smoke continued to fill the sky yesterday, the wind was pushing that fire away from the mountaintop Big Bear resort region and onto areas already burned by the larger fire.
Several thousand people live in and around Big Bear Lake, which went through its last big scare in Southern California's onslaught of devastating wildfires in 2003.
"There's no danger to Big Bear residents; there's no imminent threat at this time," San Bernardino County Fire Department spokeswoman Tracey Martinez said. But about 75 scattered homes and a fish hatchery remained in the fire's path.
Despite low humidity, steep, broken slopes and 105-degree temperatures, firefighting efforts were in "great shape," Forest Service spokesman Jim Wilkins said. About 2,700 firefighters and three dozen aircraft were fighting the blazes.
Concerns about what would happen when the fires merged had focused on the possibility of an ultra-hot fire front that could create its own unpredictable winds, but a merger also can create firebreaks by quickly burning up brush in each fire's path. "They're going to burn each other out in that area," Ms. Martinez predicted.
In nearby Pioneertown, a former Western movie locale where the larger fire burned several homes this week, a 20-person search-and-rescue team headed out yesterday to look for 57-year-old man missing since Tuesday. The wife of Jerry Guthrie reported him missing.
Meanwhile, in southern Montana, mostly east of Billings, firefighters were battling three major fires totaling close to 150,000 acres, or more than 230 square miles. The estimate on the largest fire nearly tripled overnight, fire information officer Paula Rosenthal said.
More than 200 structures, more than 80 homes, were threatened by the fires, and another blaze near Ashland destroyed at least one house. Firefighters yesterday were close to containing a wildfire that destroyed five buildings earlier this week.
Meteorologists had bad news for firefighters in southern Montana and California's Mojave Desert and foothills: Both parched areas were expected to see weekend thunderstorms that could trigger more lightning-caused wildfires.
Other wildfires included an 850-acre blaze that forced the closure of southern Nevada's Beaver Dam State Park since lightning started it late Tuesday.
Robo Gallery: You didn't select any Robo Gallery item in editor. Please select one from the list or create new gallery