Call it a Draw
Re-enactment group performs Wild West scenes in Pioneertown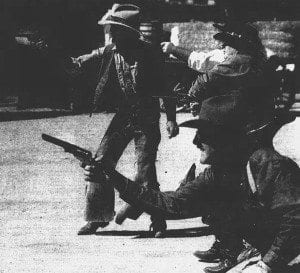 STORY BY BRIAN SKOLOFF
PHOTOS BY DOUG PARK
The Desert Sun
It's about 2 p.m. on a hot, dusty day on Mane Street – yup, that's how they spell it – in Pioneertown.
The town drunk and local rancher, "Old Grump," stumbles out of the bathhouse, a bottle of whiskey in one hand, a pistol in the other. He raises his gun high and fires off a shot into the air, stumbling and singing incoherently, something about celebrating his recent sale of 300 horses.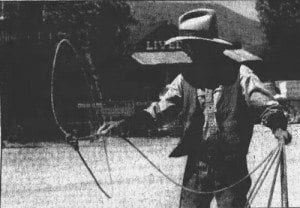 But a couple of outlaws are in town, and they overhear him babbling about all the money he just made.
Within seconds, a fight ensues. Guns are drawn. Shots are exchanged.
"Old Grump" doesn't stand a chance against the two lightning-fast gun-slingers. Moments later, he lies dead on the street. And the outlaws are digging in his pockets for his cash.
"What's going on here?" says the sheriff as he strolls out into the street with several of his deputies, their hands on their holsters. "Just hand over the guns, and we'll all go down to my office and talk this over."
"I'm not giving my guns to no pasty-faced lawman," grumbles one of the outlaws.
"We can do this the easy way, or we can do this the hard way," replies the sheriff.
It goes down the hard way, and in an instant the two outlaws are face down on the street, lying lifeless next to "old Grump."
A crowd of about 20 people sitting on the stoop of the bowling alley across the street roars with excitement and applause.
It's not the wild, wild west, but it sure feels like it – from the dusty dirt roads
Please see DRAW, F9
DRAW
Continued from Page F1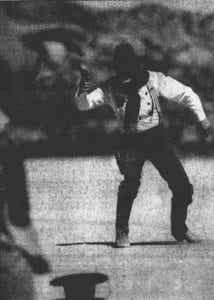 The Gunfighters For Hire, an Old West re-enactment group, bring alive this tiny high-desert enclave of Pioneertown about five miles from Yucca Valley. The group, dressed in typical Old West fashion, from spurs to cowboy hats, performs every Sunday at 2:30 p.m. through August, and it's all free.
The Gunfighters started the popular re-enactments in 1997 to accompany another show that brings to life the old flavor of the great Southwest — the Morongo Basin Horseman's Association's Pony Express ride from near Yucca Valley up through the rocky hills into Pioneertown.
"We thought it might be a good idea to rob the mail on the Pony Express ride," said Barry Johnson, an auto mechanic, president of the horseman's association, and a member of the gunfighter's group.
The group was rehearsing on Sundays in Pioneertown.
"And people started showing up for the act and came up with some new skits," said Johnson.
It's just fun
No one in the group of about 23 is paid for their Sunday show. The group does, however, perform at various events throughout the year for a fee, much of which is donated to local charity organizations.
"It's just fun," said Harvey Legrone, known in the show as "Old Grump."
"We were deprived of guns when we were kids," he joked.
"Some of us are in our second childhoods, some are in the third," added Johnson.
"It's just a hobby, an expensive hobby," said Monika Legrone.
"It's a lot of camaraderies — getting together with the group and bringing in the old western heritage," said Yucca Valley rancher Jerry Goforth, a retired Long Beach policeman.
Laid-back atmosphere
Pioneertown has a unique history, not as an Old West ghost town, but as a community built first as a western movie set in the 1940s and now a small, unincorporated town.
Dozens of western flicks were shot here throughout the late 1940s and 1950's, from "Last of the Pony Riders," and "Indian Territory" with Gene Autry to "Cisco Kid."
Several ambitious development projects failed, including a health farm, an art colony, a 30-square mile planned community and a dude ranch.
Over the years, movie and commercial makers have slowly trickled in and out of town. Taco Bell, Mercedes-Benz, Tyco, and Tropicana, to name a few, have filmed commercials in and around Pioneertown over the last several years.
Ernie Kester, known as "Doc" in the gunfighters show, has lived in Pioneertown for 15 years. He and his wife, Carole, own the Pioneertown Motel.
"It's just a nice, laid-back atmosphere," said Kester. "You're not caught up in all the strip malls and what have you.
"What's really nice is walking at night. You could walk for miles here and never see anyone," he said. "It's just so refreshing."
Robo Gallery: You didn't select any Robo Gallery item in editor. Please select one from the list or create new gallery