Golden Empire: 'Shades of the Old West'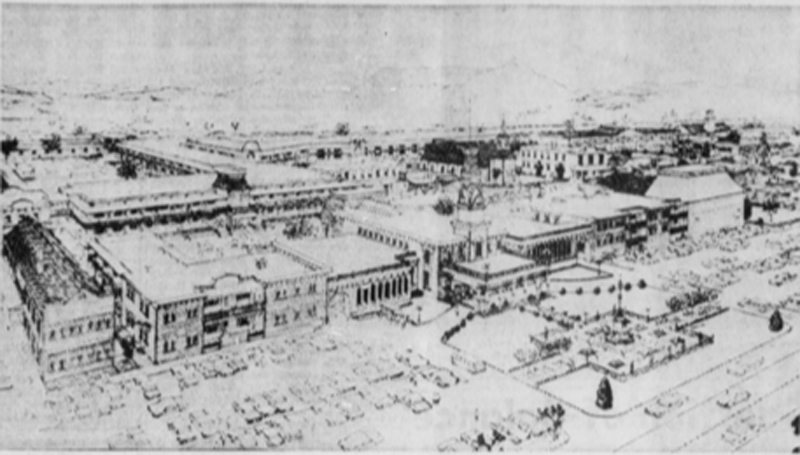 Pioneertown, Calif., a 19th century • designed town once used as a movie set for numerous Western movies in the 1940's and 50's, is fast becoming the "capital" of one of the most exciting land developments in the history of California the California Golden Empire. This 30-square-mile planned community is located in the high desert area approximately 120 miles northeast of the Los Angeles Civic Center and near the city of Yucca Valley. Benton Lefton, a former Cleveland developer, is head of the California Golden Empire.
One of the factors which has influenced the tremendous influx of people from all parts of the nation to Southern California involves an escape from the climatic extremes in other parts of the country. As all new residents soon learn, however, Southern California has a variety of climatic conditions which may be quite different at points Just a few miles apart.
The high desert area where the Golden Empire is located has a climate that is relatively unpublicized. A typical association with the word "desert" implies that the weather, particularly during the summer months, is extremely hot and uncomfortable.
While this is true of the weather in many desert areas at sea level or below, the high desert weather is quite different.
In the high desert areas, daytime summer temperatures are usually 10 to 20 degrees cooler than in the low desert. The nights
are much cooler both in the summer and winter, and the winter may bring an occasional trace of snow during the night hours. The amount of sunshine received by both high and low desert areas is about equal.
The area where the Golden Empire is located has great scenic charms in addition to its temperate climate. There are great rock formations, mountain backdrops and vistas of the valley below the high plateau. Actually only about 20.000 acres are presently considered economically feasible for development.
Single family residence sites will include 500 two-acre lots and 500 other large sites ranging in size from two to 22 acres. There are a total of approximately 15,000 building lots available. Provision has been made for cluster homes and town houses In areas totaling 1,000 acres. Another 1.000 acres each has been allocated to shopping centers and other commercial enterprise, an Industrial area and community use such as parks, churches, and recreational areas. Larger parcels suitable for ranches, summer camps, and other similar uses total 8,000 acres.
The first phase in the development of the California Golden Empire includes an initial shopping facility which will be augmented by a commercial development on 10 acres. Sites for 300 trailers will be immediately available in 30 acres of trailer parks.
Apartments, motels, and condominium developments have been allocated 130 acres.
Provision in the first development phase is also made for 1,650 single family residence sites containing from 7.200 square feet to more than two acres.
Other sites in the first phase of development have been set aside for schools, community services, and hospitals.
However, full community facilities – churches, schools stopping, banks, an 18-hole golf course – are right now available only 4 miles away in Yucca Valley.
One of the most unusual attractions in the West and a part of the Golden Empire is colorful Pioneertown. Pioneertown was founded in 1947 by a group of movie personalities including Roy Rogers and Gene Autry. Its original purpose was to provide an authentic backdrop for western movies. Unlike most movie sets, however, with false fronts, Pioneertown was designed as a functioning community, with permanent buildings to house, feed, and provide other facilities for the movie makers.
For many years, the town saw the making of dozens of western film epics. In time, however, dissension and difference developed with the founding corporation and the project was abandoned as a movie – making location. This did not deter the few permanent residents from staying on to conduct business and preserving the little community from a ghost – town status.
Spread along "Mane" Street in Pioneertown is the Golden Stallion Restaurant and bar, a U.S. Post Office, a newspaper printery, general store, antique shop, jail, trading post, bowling alley and other buildings, all of which look externally as if they were constructed In the 1880's. Additional commercial enterprises to be constructed include a Richfield Service Station, add-ons to the Golden Stallion lodge (whose units, incidental, served as dressing room to movie stars on location), an airport, and a teenage dance hall and recreation center.
The town will also provide visitors and residents with a wide variety of educational facilities – a museum of western collections and historical pieces, craft shops of all kinds, an artist's workshop and gallery – That will effectively complement the commercial facilities planned and completed.
Nightlife in the town is provided for by the Red Dog Saloon which carries an Old West motif inside and out. Jack Bailey's Golden Stallion Lodge modern on the inside and rustic on the outside, is available for overnight or weekend visitors.
A stagecoach drawn by a team of horses provides local transportation and the residents customarily wear the traditional garb of the early West. In fact, almost all of the town citizens "dress up" on Sundays, when the "Driftin Deacon," reputedly a former theological student, begins his non-denominational church services in the Red Dog Saloon. A town newspaper, the Jackass Mail, is published regularly and actually delivered by a jackass.
Parking areas will be located on the perimeter of the town to keep "Mane" Street free of automobiles and preserve its original Old West charm. New buildings will be modern in function but will conform to the architecture of the existing buildings.
The "new" Pioneertown will serve both as an attraction for visitors to the area and as an educational and commercial center for the residents of the California Golden Empire.