Hayden Ranch brings back the Old West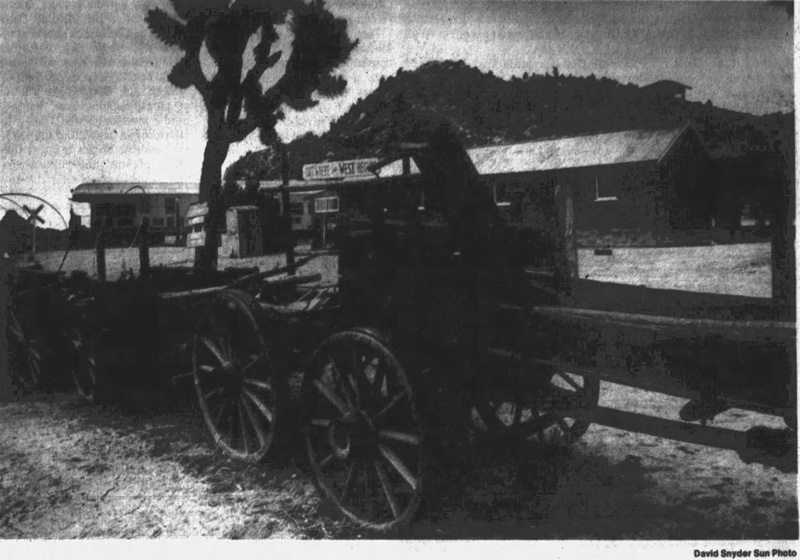 By CHISTINA VALDES
Desert Sun Staff Writer
PIONEERTOWN – Sitting on a small desert knoll just west of Pioneertown, the Hayden Ranch suddenly looms before you.
A sign just above the fenced driveway reads: "Out where the West begins."
The Scarlet Lady, an old railroad passenger car once owned by a baron, lines the side of the ranch.
The one-time set for the old "Judge Roy Bean" television series, produced and directed by the ranch's namesake Russel Hayden, the ranch maintains it's western flavor to this day.
A Wells Fargo & Co. bank building, a sheriff's office and jail, rusty wagons, and Western artifacts remain at the ranch as a tribute to the fictional character Judge Roy Bean and Hayden, who made more than 30 of the half-hour shows. Hayden also produced the "Twenty-six Men" series and played Hopalong Cassidy's sidekick Luckie.
"Rusty never did like acting," said Mousie Hayden of her husband, who died in 1981, just one day before his 81st birthday.
Mrs. Hayden, a one-time actress for Fox under the name Lillian Porter, added: "He had no ego. You need to have an ego to be in the movies."
The couple met at a cocktail party in Beverly Hills in 1946 and married shortly afterward, san Mrs. Hayden, a petite woman who declined to reveal her age.
They went on tour in 1947, performing live throughout the country, she added.
The 1956 death of his only child, Sandra, from Hayden's previous marriage to actress Jan Clayton, prompted Hayden to move to Arizona where he filmed more than 120 shows of "Twenty-Six Men," Mrs. Hayden said.
Twenty-one years later when "a little girl of a friend or ours lost her leg to cancer," Hayden decided to start a foundation to aid children suffering from serious health problems.
Mrs. Hayden continues the tradition of the annual fund-raiser at the ranch, the only time it is open to the public.
This year's extravaganza will be held July 7 and will feature barbecue steaks and plenty of entertainment, Mrs. Hayden said.
In its ninth year, the Sandra Hayden Foundation raised more than $6,000 last year.
Robo Gallery: You didn't select any Robo Gallery item in editor. Please select one from the list or create new gallery