Pioneertown Lives in Hope, But There's, Dust on the Six-Guns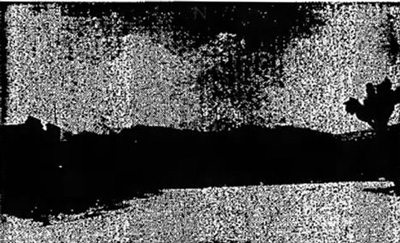 PIONEERTOWN, "a replica of the West as it used to be" is a town built to function both as a permanent western movie set and as a real town with legitimate business houses. It is located on the high desert about 30 miles north of Palm Springs. It Is the birthplace of the Judge Roy Bean series and other famous Westerns.
It takes less than three hours to reach Pioneertown from Long Beach and vicinity. To get there follow Hwy. 60 east. thr0ugh Beaumont and Banning to tho Twenty-nine Palms Junction and turn North on the Twenty-nine Palms Highway. After reaching the town of Yucca Valley turn N0rth at the drug store and travel the paved road four miles to Pioneertown.
Pioneertown looks deserted these days although now and then some company comes out and makes a picture or shoots some scenes. By and large the place is quiet, not at all like it used to be. Old time residents like to recall the days when the main street was crowded with people and horses, and celebrities such as Leo Carillo and Gene Autry walked among them.
SURROUNDED BY Joshua trees and jagged hills, Pioneertown looks like a western town might have looked back in 1880. Actually the first building was erected in 1947.
Dick Curtis, a veteran movie actor, originated the idea of Pioneertown in 1946, Curtis and 17 others, some of them outstanding people in the moving picture industry, formed the Pioneertown Corporation.
Land along the main street was corporation owned and leased to individuals who had to comply with building restrictions. All structures had to be built with fronts to represent buildings of a frontier town. Main St. is spelled "Mane" because, in the beginning it was intended that only horses and horse drawn vehicles should traverse it, and for the same reason the road was never to be paved. Today cars are free to come and go over it's dusty way but for a long time there were signs posted, forbidding "horseless carriages" on Mane Street. Other streets were given names such as Gun-sight Road and Wm. S. Hart Lane.
In the original plan many of the citizens were to be trained people, ready to serve as prop men, electricians, extras, etc. The town was to be a place where animals, vehicles and costumes could be kept permanently.
EARLY RESIDENTS of Pioneertown say that soon after the town was started real estate brokers took over and the town was overrun with salesmen and prospective customers. There was free entertainment for the thousands who visited over the Weekends.
"Pioneertown looked like a young New York in those days," they tell you.
However, it wasn't long until the "bubble bloke" and the real estate boom ended. Soon people began thinking of the town as a movie set again.
A few years ago Pioneertown had about 30 business houses. At the present time there are scarcely half a dozen actually open for business and the population has dwindled to 73.
The Golden Stallion restaurant, built of railroad ties, is one of the town's earliest establishments.
The near-by Pioneertown Townhouse is also built of railroad ties and resembles a sprawling log cabin. Back in the picture making heyday of the town, Its comfortable rooms served u a dormitory for stars and extras and the place was filled to capacity. It is still open as a motel.
Pioneerbowl (bowling alley) was built by the late A. E. Thompson, and officially opened by Roy Rogers who rolled tho first ball. Mrs. Thomp1on who portrayed the character of "Cactus Kate" in movies and television, still operates the place.
PIONEERTOWN'S first post office was located in the back of Pioneerbowl. The post office moved long ago to another building.
Summer visitors to Pioneertown look longingly at the faded sign on the building that was once Nell's Ice Cream Palace.
Bill (Trigger Bill) Bridges, who was a bit player in the days of Douglas Fairbanks Sr., opened the doors of his "Shootin' Gallery" April 3, 1948. Bill also wrangled horses for s0me of the movie company's making westerns.
The Pioneertown Gazette is no longer published.
THE RED DOG SALOON is a landmark in Pioneertown. Through its swinging doors have "staggered" many of the "bad men" of "he-went-that-a-way" pictures.
Occasional gymkhanas and rodeos are still held in the big corral at the end of Mane street. A motion picture company was on location there recently, and another movie is in the offing. On such occasions, horses are tied to hitching posts and there are crowds on the streets.
"Just like old times." the residents smile and tell you.
Robo Gallery: You didn't select any Robo Gallery item in editor. Please select one from the list or create new gallery